As part of my continuing series on bachelor apartments, I'd like to show you one that I've admired for a long, long time... Robert Montgomery's flat in Our Blushing Brides. 


Now, I guess I should clarify on this one.. it's not actually an apartment, per se. You might not even believe me unless you've seen the movie when I tell you-- it's a tree house. Yes, a tree house. But it is THE most awesome tree house in tree house history!


The scene begins with Robert Montgomery taking a bewigged Joan Crawford (another darn blonde wig!) for a stroll in his garden. The next thing you know, he flips a switch and voila! The lights in his tree house come on!
I know, you're thinking, "that is the best tree house ever!"
but you ain't seen nothing yet! Wait until you see the inside!!
(You have to climb up the ladder to get there, you know!)
Can you believe THAT?! A giant arching window to view the moonlight, a giant semicircular couch to cozy up to his sweetheart. Robert Montgomery has got it made! Even if he weren't so handsome and charming, I think Joan would marry him just for the tree house!
What is completely lovely about this tree house is the feature that made me go ga-ga over the Sunday in New York apartment-- split levels! I love the sunken couch area! Apparently Joan does, too!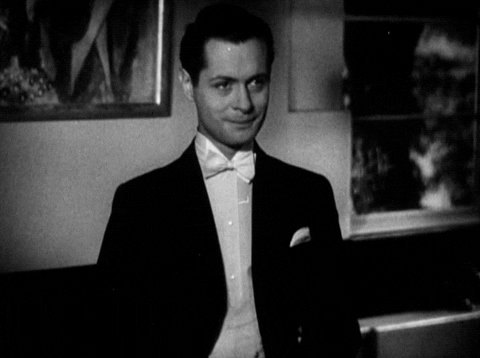 And... the obligatory Robert Montgomery screenshot. How could I resist that boyish smirk? (sigh)
In case you're not aware, Robert Montgomery is one of the select few gentlemen who is in my TOP FIVE favorite actors. I have three that have been there steadily for a long, long time and then the other two fluctuate. My top three are ALWAYS Ronald Colman, Charles Boyer and Robert Montgomery. That's the way it has always been!
I finally finished my list of my top 20 favorite actors and actresses, but I only have about 8 of them painted so far. The goal is to have all 40 paintings finished sometime in May. I'm not sure if I should keep them all on hold and post them in one big batch when I've finished all 40 or post them in increments. What do you think?
By the way-- in case you missed the first installment of my bachelor apartment series,
here's the link
for the whole series!