Raquel from
Out of the Past
just posted a fun classic movie tag on her youtube channel (
watch it here!
) and I couldn't resist participating myself. Here we go!
1 - What's one classic movie that you recommend to people over and over and over again?
I wish that I had an answer to this that would surprise everyone, but it's Sunday in New York. I recommend it to everybody that I meet and I've been doing that for over ten years now. I remember before it was released on DVD officially I used to make copies of the dvd that I taped off TCM and mail them to my friends to make sure they got to see it. So far almost everyone I've recommended it to has loved it (with one exception that always sticks out in my mind, argh!) so I'm not going to stop anytime soon.
2 - What was the last classic film you saw and what were your thoughts about it?
The last classic film I saw was Claudelle Inglish (1961). I watched it for Chad Everett (who only has maybe 7 minutes of screen time) and the title role is played by Diane McBain, but Arthur Kennedy totally stole the picture in my opinion. He completely and utterly broke my heart. I didn't expect myself to get so wrapped up in the movie but by the end I found I was way more emotionally invested in it than I thought I'd be. And that's entirely because of Arthur Kennedy. What a performance.
3 - Name a classic movie genre you love and one you dislike.
One that I love would be '60s sex comedies. Even the worst of them are still completely enjoyable to me! And one that I dislike would be
... hmm...
normally I would say westerns but
as I wrote earlier this week
, that has changed a bit. I'm going to go with Shakespeare adaptations. I actually enjoy Shakespeare and was obsessed with memorizing monologues when I was in school, but it's not my favorite thing to watch onscreen.
4 - Name a classic movie star with whom you share a birthday or a hometown.
I share a hometown with Paul Robeson! We were both born in Princeton, New Jersey.
5 - Give a shout out to a friend or family member who shares your love of classic movies.
I'll give a shout out to my mom and dad. My mom shares my love of frivolous '60s romps and old Disney movies, while my dad shares my love of foreign films. This week my mom and I traded favorite scenes from The Glass Bottom Boat and I had a conversation with my dad about the Truffaut vs. Godard approaches to whether or not art should be political. We also recently did a March Madness style bracket to narrow down our favorite character actors (if I remember correctly, Alastair Sim won across the board.)
6 - Name a classic movie star who makes your heart skip a beat or whom you admire greatly.
I'm going to take this as my cue to talk about Chad Everett again. I am
so, so
smitten. I just got a signed photo in the mail and placed it across from my bed so it's the first thing I see in the morning. I have a problem.
I only have one more movie of his from the 1960s left to watch (Johnny Tiger, which, depending on the legitimacy of the website from which I bought the DVD, is hopefully on its way to me now.) and then I'll be all done with that decade of his filmography. The '70s are tricky territory because of excessive sideburns, long hair, and so much polyester, so I might skip ahead a little bit and resume binging his career around 1981. I'm also working my way through Medical Center, and I have to say it might be one of my favorite discoveries that was spurred by a crush. Some episodes leave me grinning like an idiot, and then last night I actually had to grab tissues because tears were streaming down my face. It's a rollercoaster, that show! But it's just so well done. And Chad Everett is such a hunk. *Swoon*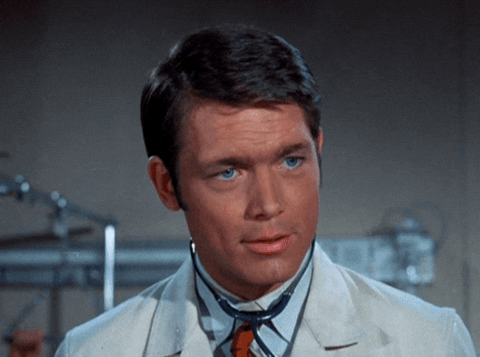 7 - Describe one memorable experience watching a classic movie.
A couple years ago in February the heater broke in my house and it was freezing cold inside. La Piscine was showing at the Film Society in New York, and I took a train into the city to see it. The theater was nice and cozy, and the sizzling French summer was radiating off the screen. You could hear that low buzzzzz of insects and practically feel the sun on your skin and obviously Alain Delon, on the big screen, shirtless, and tanned, and ugh. It was just so nice. I think it was also my first time seeing a classic movie alone and I loved it so much. The solo movie-going experience is so underrated.
8 - Describe the craziest thing you've done because of your passion for classic movies.
Most of my really crazy things were done when I was a teenager, like wearing black mourning clothes to middle school on the anniversary of Audrey Hepburn's passing, or making my friends take photos of me with my arms around a nonexistent boyfriend at our junior prom so that I could then "photoshop" Frank Sinatra into the photo with me using MS paint. This was before digital cameras so the whole process was way more time consuming (and thus crazy) than it would be today, lol.
Lately I guess the craziest thing would be going to the TCM Film Festival multiple times. I don't like Hollywood, I'm socially inept, and I honestly can't afford to go as often as I do, but almost every year since 2014 I find myself on a plane bound for California every spring! I'm already planning out outfits and saving up airline miles for 2020.
9 - What's something classic movie related that you love to collect?
I collect movie tie-in books! I have a little rotating paperback shelf for them so that they're always on display, and it's my favorite collection (not just classic movie related collection) that I own! The only downside is that I haven't read many of them because I'm scared to crack the spines and possibly separate the covers since so many of them are in delicate condition.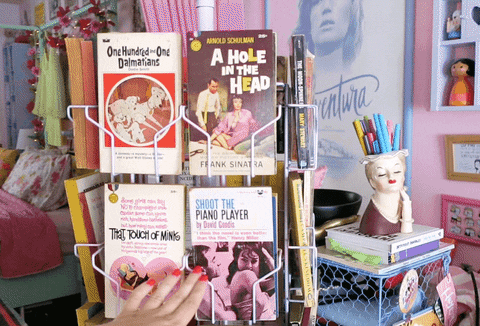 10 - What's your favorite way to share your passion for classic movies?
I love talking to other classic movie fans on twitter and following accounts that are as obsessed with their favorite stars as I am with mine. My absolute favorite people on the site are the ones who are passionate about specific movies or stars and try to share that passion with the movie community. I think it can be a thankless job (especially if the star you're obsessed with isn't as popular as Audrey Hepburn or Cary Grant, say) but I appreciate and enjoy those accounts so much. I just love being able to talk movies there. It's the only place online that I really feel comfortable socializing, and I think it has to be because the classic movie community is so kind and welcoming and supportive. I'm sure most people there think of me as an acquaintance, if they think of me at all, but I think of so many of them as good friends and really cherish their presence in my life.