Today is the tenth anniversary of TCM's Summer Under the Stars salute to Dirk Bogarde, the day that I watched So Long at the Fair for the first time and my life was never the same. Ten years since I exclaimed on this blog, "
Whoa! Hold the phone!! THIS is Dirk Bogarde?!?!
"
I like to fantasize that this might have become a fairly popular and well-kept film blog if my manic fixation on Dirk Bogarde hadn't taken over the wheel and steered entirely in the direction of Bogarde movies, paraphernalia, photo scans, and desperate pleas for someone, anyone, to join me in my fanaticism. But if I'm being completely honest, I'd trade that fantasy of a successful movie blog for ten years filled with overconsumption of Dirk Bogarde. So many of his films became all-time favorites. And as a perpetually single gal who likes to fill the boyfriend-shaped hole in her heart with overblown obsessions with dead movie stars, the ten years that I've spent head over heels in love with Dirk Bogarde have been like a warm embrace, and fond company in what could otherwise have been a bit of a lonely life.
To celebrate a full decade of Dirk, here is a list of ten things (one for each year, obviously!) Favorite movies, blog posts, photos, random anecdotes, just ten things that have made this last decade all the more pleasant because he was a part of it:
1. Darling (1965) - As a Julie Christie fan it's very likely that I would have watched this eventually even if I wasn't on a quest to devour every Dirk Bogarde movie ever made - but I watched it in 2009 and it quickly became one of my top 5 favorite movies, and it has remained there all these years. Every time that I revisit it, I find something else to love about it. I'm so grateful to Dirk Bogarde's face for luring me into this film.
2. In 2010 I went to New York to view two of Dirk Bogarde's Hallmark movies at the Paley Center. It was the first time in all of my years as a classic film fan that I really felt like I was doing real research. I called ahead of time to make sure I could schedule enough time (the movies I wanted to see exceeded the normal allotted viewing time) and it was well worth the planning and the money to go into the city. I wrote about my experience and the films
here
.
3. Hot Enough for June (1964) - I don't know that I ever would have even heard of this movie were it not for Dirk Bogarde, and it ended up becoming one of my go-to movies for whenever I need a pick-me-up. It's a funny, smart, and so so fun spy spoof about a writer who gets assigned to take over for a deceased 007 when he shows up at the unemployment office. I wrote about it in 2009,
here
.
4. My devotion to Dirk Bogarde resulted in a pretty hefty amount of tribute videos. Back in 2010 and 2011 I had a little more time on my hands and I knocked out 10 Dirk Bogarde videos. You can view them all on my youtube channel
here
, but
this one
that features clips from all of his movies (that I could find) in chronological order, and
this one
that was my very first tribute video ever, are my favorites.
5.
Dirk Bogarde's life story in comic book form
! This was my absolute favorite find in all of my years of scouring ebay for Dirk memorabilia. It's a 22 page long comic book from the 1950's that retells his (slightly fictionalized and exaggerated) biography.
6. I'm going to cheat a little bit here and include ANOTHER top ten list in this top ten list. I wanted to choose my all time favorite Dirk Bogarde picture to include in here, but I couldn't narrow it down. I just couldn't!! So instead
here is a link
to my top ten favorite photos.
7. Modesty Blaise (1966) - This wild movie makes absolutely no sense and I LOVE IT SO MUCH. Honestly this might be the number one thing I am most grateful to Dirk Bogarde for. The music, the lobster indecision, the over the top-ness, the camp, Dirk's white wig (and his dramatic removal of said wig), the spinning umbrellas, the random outfit changes, Monica Vitti and Terence Stamp's short burst of song and ice cream and colored dust. It makes my heart swell just thinking about this movie.
8. The Mind Benders (1963) - Recently somebody asked me what movie has haunted me the most, and I think this would have to be it. It's a compelling, deeply disturbing movie about loss of sensation and what really happens to you when you're forced to be alone with your thoughts.
The post I wrote
about this movie back in 2009 is still one of my favorite things I've written.
9. This gif. It might be my favorite piece of film footage of all time. So handsome. So debonair. So beautiful. Sigh.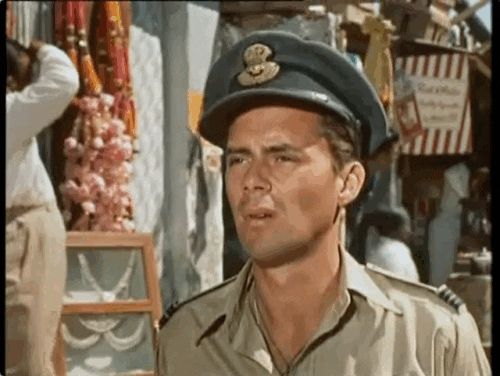 10. Discovering Dirk Bogarde never ends. When I first started this journey, I consumed way too many films in a very short period of time, and realized that I wasn't going to be leaving many new-to-me Dirk Bogarde films for my future self. So I slowed down and now, a decade later, I still have plenty left to watch. Some people like to approach fandom by binging everything as quickly as possible (I've been there!) but my preferred method is to stretch things out so that I still get to treat myself to "new" films even though the performer or director is long gone. And so I'm glad that ten years into consuming his filmography, I am still discovering Dirk Bogarde, and I hope I always am.