In the 1966 film Made in Paris, Louis Jourdan plays a Parisian fashion designer, Marc Fontaine. When Ann-Margret takes Edie Adams' place as his American buyer, catastrophic misunderstandings and flirtatious escapades ensue. This film is notable to me because it's the first time that I took notice of --
and fell down a deep rabbit hole of full-blown obsession with
-- Chad Everett, who plays Ann-Margret's boyfriend.
The only thing in this film that might be more aesthetically pleasing than Chad Everett's megawatt smile is Marc Fontaine's flamingo pink studio, designed by set decorators Keogh Gleason and Henry Grace. Situated right above the runway of the fashion house, this colorful abode is a feast for the eyes!
To the left is Fontaine's office desk, facing away from a bay window that -- I can only assume -- is probably overlooking the Champs-Élysées. To the right is a sitting area, complete with two chairs and a matching settee. But the piece de resistance is that spiral staircase hiding in the back left corner. Be still my heart! And the addition of a plush pink carpet only heightens the style that hovers somewhere between decadent and kitschy. My favorite spot to be!
On the right side of the room, Fontaine keeps his latest sketches on display, hanging over a table that appears to house a collection of fashion magazines. I love the balance here of opulence and strict attention to design, but with little messes here and there that reflect the reality of a working fashion designer. My own studio is much less lavish, but I think I strike a similar balance between lived-in creative workspace and pleasing to look at.
In the other corner of the room is Fontaine's easel, complete with a table for paints and palette, a roll of paper lying underneath, and a model form for reference that is bedecked in fabric, ribbons, and flowers. The spiral staircase is my favorite feature of the room but this model is my favorite detail that the set designers added -- it's kind of kooky!
Here is a close up of the staircase, which has a grey railing with golden spokes. And over Ann-Margret's shoulder you can see a peek of the Picasso painting hanging up on the wall. I also love how the walls have intricate wooden carvings in the beveled moulding and they almost seem to be washed in a rose hued stain.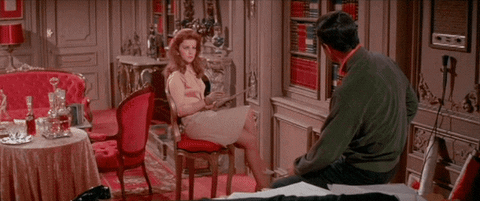 Remember how I mentioned that this room is situated right above the runway? It's the perfect spot for Fontaine to retreat during a show and keep an eye on the reception his pieces receive during a show. All he has to do is press a button and - Presto! - the bookcase disappears into the wall to reveal a window overlooking the runway. How fantastic is that?!
This is part of an ongoing series of posts dedicated to bachelor apartments in movies. You can view the rest of the series
right here
.