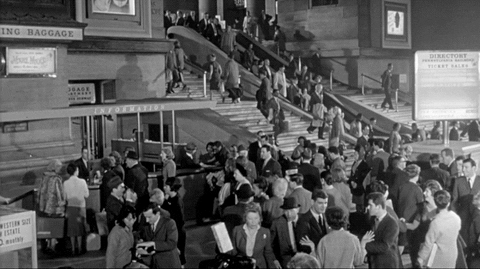 "
Through Pennsylvania Station one entered the city like a god. One scuttles in now like a rat
." - Vincent Scully
If you've entered New York City in the last 50 years you've likely
scuttled in like a rat
through Penn Station. There are little remnants of the structure that once stood there -- the granite eagles between 31st and 33rd street, and some brass and iron railings in stairwells -- but it's difficult to fully imagine the grandeur and majesty of the original Pennsylvania Station. Which is why it's such an absolute delight to see it in all its glory in the beginning and ending scenes of the 1964 film Dear Heart.
Production for Dear Heart began on October 2, 1963, just four weeks before demolition started on the building. You can see the light pouring into the terminal, and catch a glimpse of the almost-10 feet tall statue of Pennsylvania Railroad President Alexander Johnston Cassatt, looming over Glenn Ford's shoulder. There's the Coca Cola digital clock, the incoming baggage check, and the souvenir shop. Giant arched windows and beautiful stonework. You can see it all in these scenes.
According to Lorraine B. Diehl, the author of
The Late Great Pennsylvania Station
, you can spot some broken and covered windowpanes in the ending scenes. Although The Daily News reported in November 1963 that the Penn Station scenes were running behind schedule, Dear Heart ended their on-location filming on October 3rd. And one thing is for certain -- Dear Heart was the last movie to ever be filmed in the original Penn Station. By the time the movie was released in December 1964, the grand and glorious Penn Station was no more.
In
Mary Wickes: I Know I've Seen That Face Before
, Steve Taravella writes that "Penn Station was razed immediately after filming and replaced with today's soulless station of the same name." After this, most movies would have to film in Grand Central Station if they wanted to capture a New York station with cinematic appeal. In fact, it was the destruction of Pennsylvania Station that saved Grand Central. Less than two years after the demolition, spurred by the loss of such a beautiful historical landmark, New York City enacted the Landmarks Preservation Law.
Movies are like time capsules. When the crew of Dear Heart rolled into Penn Station in October of 1963 they might not have realized that they were preserving a small piece of American architectural and rail history. They may not have realized that their movie would bookend an era of rail travel, a vivid and faithful relic of a way of life that is long gone. But by creating this piece of art, they also preserved a piece of history for us to look back on years later.
We should be thankful for movies like this, filmed on location in locations that no longer exist. We may now scurry in like rat, but by watching Dear Heart we can imagine what the world must have been like when you once entered the city like a God.
This post was written in partnership with
Trainiac Productions
, as part of a series on train history in film. Please check out their facebook page for more train posts!
You can rent Dear Heart on Amazon Prime
right here
, or purchase the DVD through Warner Archive
here
.