FilmStruck
is currently running
a feature on Alain Delon
, so I thought it would be fun to make a little guide to their lineup. I decided to divide my recommendations into two separate lists. The first is the Fangirl Kate list, the second is the Serious About Cinema list.
If you're interested in watching his films because you want to gawk at his icy blue eyes and unreal bone structure (have you seen those cheekbones?) then the Fangirl Kate list is the one for you. If you're more set on checking out his impressive filmography, seeing his perfect performances in films by the likes of Antonioni, Visconti, and Melville, then you'll want to scroll down to my Serious About Cinema list. And if you're interested in both (*raises hand*) then you can just watch them all! I should note that neither of my lists include the film Swann in Love (1984) since it's one of the few remaining Alain films that I have yet to see. I should also note that these recommendations are only based on the films FilmStruck is currently offering, not Alain's full filmography.
Before I begin, here is the list of films currently streaming as part of FilmStruck's Alain Delon feature: Le Samourai, Rocco and His Brothers, Purple Noon, Spirits of the Dead, Christine, L'Eclisse, Farewell Friend, Le Cercle Rouge, Un Flic, Deux hommes dans la ville, Swann in Love. Of these films, only Le Samourai, L'Eclisse, Purple Noon, Spirits of the Dead, and Swann in Love are part of the permanent Criterion Collection. The rest will expire when the feature ends so if you're interested in those, watch them quickly! If rarity is a factor, try to check out Christine and Rocco and his Brothers while you can because they can be hard to find.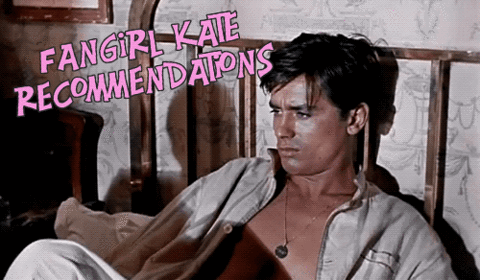 1. Purple Noon (1961) The original film version of The Talented Mr. Ripley with Alain in the role of Tom. He slides so effortlessly between playing a meek tagalong and a brooding pillar of confidence, it's terrifying and wonderful at the same time. If I had to pick one movie in which this beautiful actor looked his MOST beautiful, it would probably be Purple Noon. Like, if you've seen photos of him on twitter or tumblr and thought "man, that guy is HOT, I should check out his movies sometime based on this one factor" this is your movie, and it WILL get you hooked for life. Everybody has their own preferences and favorites but personally I cannot think of
any
movie I've
ever
seen where a man looked better than Alain does in Purple Noon.
I was torn between including this in my "fangirl" section or my "serious" section since it's really an A+ movie, one of my favorite foreign films, and a super taut thriller, but one look at this face and there's really not even any question. I mean...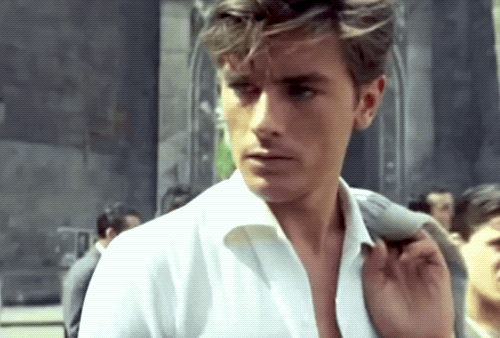 2. L'Eclisse (1962) I once read a review of this film that said something like "If two people as beautiful as Alain Delon and Monica Vitti have trouble finding love, there's no hope for the rest of us." L'Eclisse follows their doomed love affair from its slow awkward start to its sudden fizzle, while we absorb all of the sad beauty from the comfort of our own average lives. This could easily fit into my "serious about cinema" category as well. But even if you're not really into Antonioni movies and all the symbols and existential emptiness that come with them, it's worth it for this face.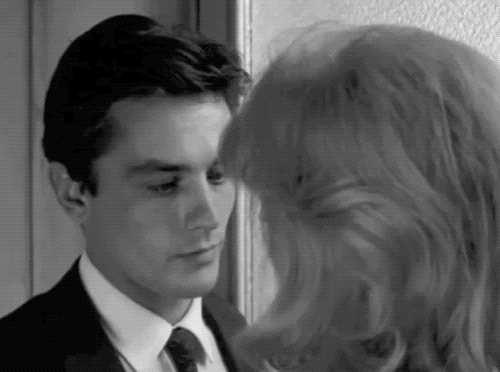 3. Christine (1958) baby Alain Delon and baby Romy Schneider in their first film together! *aww* This is a tragic love triangle (actually more like love polygon!) period drama, and Alain is so beautiful here it's really hard to believe he's actually the same species as the rest of us. This isn't one of my favorite Alain films, but it's fun to watch since it's the film where Alain and Romy met and fell in love. And I have to recommend it if only because I spent two years trying to find a copy of the film with English subtitles. And now it's streaming on FilmStruck, so
you
can easily watch it! Don't pass up that opportunity!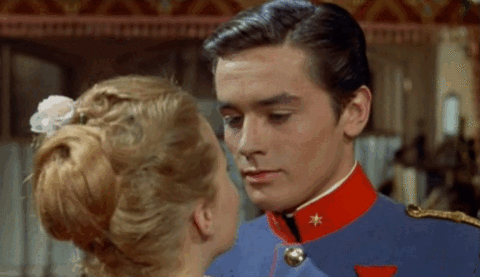 4. Farewell, Friend (1968) This is, strangely, one of my favorite Alain Delon movies. The film starts off kind of weird (There's a bunch of rich men pretending a prostitute is a pull-string doll? It's... uncomfortable) but it's not long before Alain and Charles Bronson are stuck in a room together after Alain's reverse heist (that's when you plan an elaborate break-in to return something, not to steal something!) goes awry. I love a good heist movie, whether that involves stealing something or, in this case, not, and I love it even more when you pare down the cast and have two actors carry the whole movie. Finally, the reason this one got sorted into the Fangirl Kate section: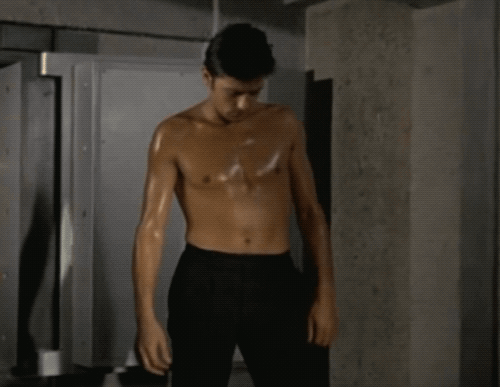 1. Le Samourai (1967) This movie is in my top 4 films of all time. Alain's first teaming with frequent director Jean-Pierre Melville, this is often considered (and rightly so) the best movie either of them ever made. This is a very quiet movie (literally no dialogue for the first ~20 minutes!) about a lone assassin and a hit job gone wrong. Every single move -- of the actors, of the camera -- is meticulous. It's just such a perfectly constructed movie, reminiscent of film noir but with a decidedly 60's French touch. Not only is this a great introduction to Alain Delon's filmography, I think it's a great introduction to French cinema as a whole.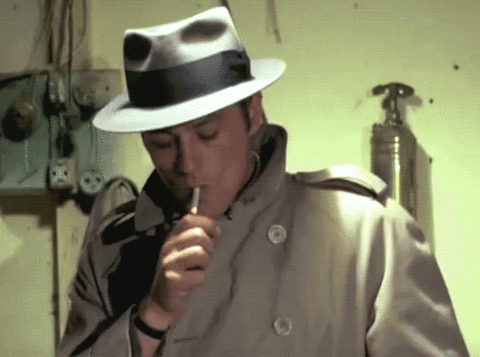 2. Deux hommes dans la ville (1973) Alain plays a reformed criminal who wants to go straight, but keeps getting harassed by the guy who locked him up a decade earlier. It's clearly inspired by Les Miserables, but set in a modern-day France that was still, horrifyingly, using the guillotine. I've written about this one on my blog before, and you can read the post
here
. I mention this in the other post but it bears repeating -- Alain Delon's eye acting here is just The Tops. Towards the end there's a whole scene that relies on him and Jean Gabin exchanging looks, no words, and it pierces your heart.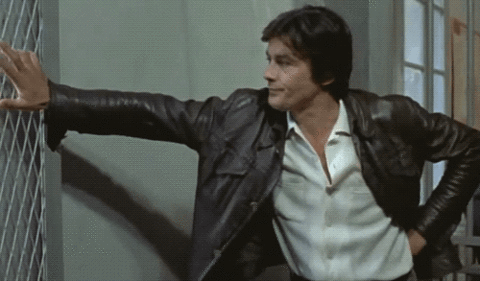 3. Le Cercle Rouge (1970) One of the best heist sequences in the history of film. I personally think it outdoes Rififi, it's
that
good. This was Alain's second collaboration with director Jean-Pierre Melville after Le Samourai, and it's just as taut, with painstaking attention to details and a plot that comes full...
circle
. Alain is a tour de force of calm and cool, and Yves Montand turns in a meaty performance as a former cop with a case of DTs, who has to get clean to help with the heist.
4. Rocco and his Brothers (1960) Here Alain plays the most pure, sweet thing that's ever lived, who falls for his brother's former flame. It's got boxing, heartbreak, and everything in between. I've revisited almost every Alain Delon film that I've watched so far, but I have yet to revisit this one. It's a good movie, I recommend it, and it's quality with a capital Q. But it's
so
brutal. You guys know I'm not a happy ending girl, I love movies that are sad and depressing, but this one is like the cinematic equivalent of a gut-punch. I'd suggest watching it if you've never seen it before, if only to see Alain Delon and Annie Girardot give exquisite performances, but man. It's been almost two years since I saw this for the first time and I still get sad thinking about it.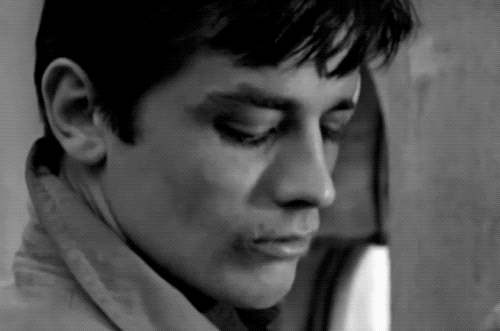 Lastly, a few notes about the other films in the feature:
Spirits of the Dead (1968) This is an anthology film based on stories by Edgar Allan Poe, where each vignette was directed by a different director. Louis Malle helms the Alain Delon/Brigitte Bardot story, and it's very good (plus you get Alain Delon x2!) It just made me wish that Malle and Delon had teamed up for a full-length feature! But I am scarred for life by the Roger Vadim segment which pairs Jane Fonda and Peter Fonda as lovers. I can't unsee it.
Un Flic (1972) A heist film where Richard Crenna is a nightclub owner/robber, and Alain Delon plays the friend/cop who has to catch him. It's very good and Catherine Denueve is the third part of the love triangle in the film. (ps. Another great Delon/Denueve pairing is
Le Choc
, which I wrote about here.) This was Alain's third teaming with Jean-Pierre Melville, and Melville's last film. I personally think it's the lesser of the three, but it has another fantastic heist sequence and even Melville's lesser films are greater than most directors' best films.
And that wraps up my recommendations! I hope if you haven't dabbled in Delon before that this post will spark some interest, or at least help you decide where to start. In the future I'll try to do a similar post with his films that are available on DVD for anyone who misses out on this FilmStruck feature.